LaTricia Gilmore » Broker/ REALTOR®️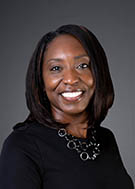 Top 3 Reasons to work with a Real Estate Agent
Ethical Treatment - Working with a Real Estate Agent/REALTOR®️ means that you're working with a professional that is required to adhere by a strict Code of Ethics. This means clients will receive the highest level of professionalism and will be treated ethically in all services rendered.
Expert Guidance - In addition to professional and ethical service, Real Estate Agents can provide you with valuable information that will help you make the right decision regarding the sell of your existing home or the purchase of your dream home.
Negotiation Knowledge – A Real Estate Agent/REALTOR®️ will negotiate on your behalf to ensure you will receive the best and most fair deal regarding your transaction.
WHAT EVERY BUYER SHOULD
KNOW BEFORE PURCHASING
Property taxes and qualified interest are deductible on an individual's federal income tax return.
Often, a home is the largest asset an individual has and is considered one of the most valuable investments available.
Depending on your loan, a portion of each amortized mortgage payment goes to principal, which is an investment.
A home is one of the few investments that you can enjoy by living in it.
A REALTOR®️ can usually show you any home whether it is listed with an agency or a builder, or even a For Sale By Owner.
Working through a REALTOR®️ to purchase a For Sale By Owner home can be very advantageous because someone is looking out for your best interest. In most situations, the seller is willing to pay a fee to a buyer's agent.
YOUR REFERRALS ARE KEY!
Maintaining ongoing client relationships is part of my commitment to provide a level of real estate service well above and beyond expectations. My clients share their positive experience with friends and associates who then seek me out. This has allowed me to build a successful real estate practice based on referrals. As a result, I can devote more of my time to helping clients and less looking for new ones. If you are happy with my service, I hope you will spread the word and send people my way so I can help them the same way I helped you. That's a win-win all around!
4 Must-Know Tips for Buying and Selling
REALTOR®️ Mag
Don't wait. More than 85 percent of buyers who say they plan to buy a home in the next year say they will wait until the spring or summer of 2016, shows a recent REALTOR®️.com® survey. But buyers who start their hunt early will likely face less competition and have just as many homes for-sale to consider.
Shop around for a mortgage. Buyers shouldn't take the first rate-quote they receive and should talk to more than one lender. A lower interest rate could equate to thousands in savings over the life of the loan. Mortgage rates are largely expected to rise over this year. REALTOR®️.com® is predicting mortgage rates to reach 4.65 percent by the end of this year (they're currently just under 4 percent).
List during prime-buying season. REALTOR®️.com®'s data shows that the prime home buying season usually begins in April and reaches a peak in June. "Sellers who list their home during the prime spring and summer months benefit from a larger population of buyers and potential bidding wars, which often result in higher prices and faster closings," according to REALTOR®️.com®'s report.
Price to sell. Home prices nationwide are expected to rise 3 percent year-over-year, with a few markets like Stockton, Calif., and Las Vegas expected to see a whopping 10 percent increase this year alone. Home sellers would be wise to take their local REALTOR®️®'s advice to price their home adequately for the market and based on comparables.
Consider an incentive. Is there something extra a seller could throw in to entice buyers? Sellers who are open to negotiate beyond just price may find more success in hooking a buyer. Thirty-seven percent of all sellers offered some type of an incentive last year.
Featured Listings
Search MLS
Send me a message